| | | |
| --- | --- | --- |
| | | |
TENNESSEE DIVISION CAMP OF THE YEAR 2000-2001 ~ 2001-2002 ~ 2003-2004

Welcome to our website!
MAY 20, 2013 - The Confederate Raid on St. Albans, Vermont

Our program for May will be presented by Richard Knight of Nashville. After earning a B. A. at Virginia Military Institute, he went on to earn a Master's Degree at U of A at Birmingham and a Law Degree from Cumberland School of Law at Samford University. He served in the Armored branch of the Army for three years and has worked as an attorney since then. He has been married to Linda for 42 years.

Richard joined the SCV in 1968 on the record of Capt. John Hughes of the 3rd Virginia Cavalry. He belongs to several other patriotic or heritage organizations and has always been an avid student of history. While many of us have heard of the Confederate Raid on St. Albans, Vermont, almost none of us know any of the details.

This promises to be "the program" of the year! We hope you will join us on Monday the 20th of May at Shoney's on South Jefferson. Come around 6 if you want to eat supper. The meeting will start at 7 p. m.


Meeting - Shoneys on South Jefferson
Eat - 6 p. m.
Meeting starts - 7 p. m.

Ed Butler 1st Lt. Commander
Program Chairman



Please send all correspondence to:

James McKinney
Dillard Judd Camp 1828
PO Box 205
Cookeville, TN 38503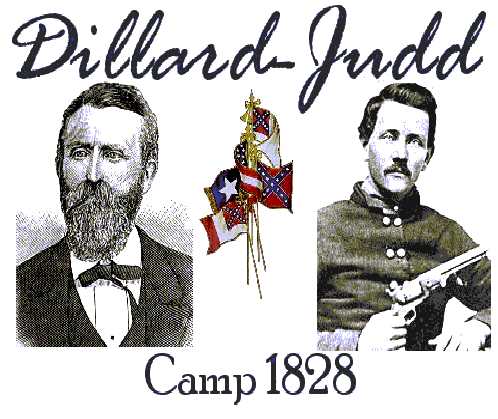 Dillard-Judd Camp Logo
Charge to the Sons of Confederate Veterans:
"To you, Sons of Confederate Veterans, we submit the vindication of the Cause for which we fought; to your strength will be given the defense of the Confederate soldier's good name, the guardianship of his history, the emulation of his virtues, the perpetuation of those principles he loved and which made him glorious and which you also cherish. Remember, it is your duty to see that the true history of the South is presented to future generations."
- Lt. General Stephen Dill Lee, Commander General, United Confederate Veterans, New Orleans, Louisiana, 1906
---
Meetings
Monthly meetings of the Dillard-Judd Camp are held on the theird Monday of the month. The business meeting and program starts at 7:00P.M. We meet at Shoney's located at 880 S Jefferson Ave Cookeville, TN 38501 - Bring a Guest.

---
Camp Officers

Commander - Mike Williams

1st Lt. Commander - Ed Butler

2nd Lt Commander -

Treasurer - Clark Carlton

Adjutant - Walter Emanuel

Chaplain

Aides-de-Camp

Dr. Sam Barnes, Surgeon

Dr. James D. McKinney, Newsletter Editor


Marshall Judd, Esq., Judge Advocate

Seargent-at-Arms - Edward McNatt Butler

Gerald Myatt, Headstones & Markers

Dewey Sparks, Historical Research
You are visitor number
since April 9, 1865