SENATOR
LANDON CARTER HAYNES
Camp 1850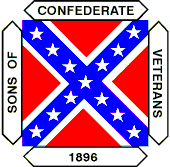 Sons Of Confederate Veterans
Johnson City, Tennessee
---
Chartered February 1999

Named in honor of Confederate Senator Landon C. Haynes

The Camp Meets:
6:30 p.m. on the third Tuesday of each month
Tipton-Haynes Historic Site
Tipton-Haynes is located at 2620 South Roan St., Johnson City, TN.

Directions: From I-26, take Exit 31 and head West on University Parkway and proceed to stoplight at South Roan Street. Turn left onto South Roan and travel approx. 1 mile to Tipton-Haynes.

June 2005 Meeting: Saturday, June 18 at noon. Covered dish picnic.
For more information contact Adjutant Bob Rouse (423/929-2377)
or Commander Tom Love (423/538-0539) (email: Tom Love )
---
Camp Mailing Address:
Senator Landon Carter Haynes Camp 1850
c/o Bob Rouse
1012 Nottingham Place
Johnson City, Tennessee 37604
---
Tipton - Haynes Historic Site (Home of Senator Haynes)
E-mail the Landon C. Haynes Camp