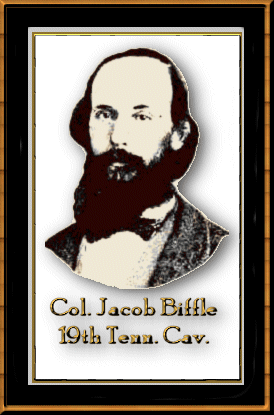 Colonel Jacob B. Biffle, Commander, 19th Tenn.Cavalry Reg't.

Col. Jacob B. Biffle
Confederate Cavalry Commander
Jacob Barnett Biffle, the son of John Barnett and Mary Chambers Biffle, was born on May 31, 1830 near Ashland in Wayne County, Tennessee. His father was a veteran of the War of 1812 [who served in Samuel B. McKnight's Company], and son of Jacob C. Biffle, a Revolutionary War veteran. Jake Biffle was a veteran of the Mexican American War (1846-1848). [At the age of 18 he volunteered to serve in the company formed by Albert G. Cooper. Cooper later served as Biffle's lieutenant-colonel in the 9th Cavalry Regiment.]
Although some historians have touted the actions of Forrest and, have shrouded the ability of his field commanders, Colonel Biffle could not be overshadowed with ease. In 1861, then Captain Jacob Biffle assisted with the formation of the 2nd Tennessee Cavalry Battalion, soon afterward, He was promoted to lieutenant-colonel and commanded an entire regiment which became the 9th Tennessee Cavalry Regiment (also called the 19th).
Displaying gallantry and valor that was second to none, Biffle's ingeniousness and and brilliance put him on a level that paralleled General Forrest. His knowledge of tactics and how to handle his men in action proved him to be a valuable asset to the Confederate Army of Tennessee.
After the war, Colonel Biffle returned home to find Wayne County hostile towards all former Confederates. Sensing the change, Jake packed up his belongings and moved with his wife Sarah to Tupelo, Mississippi. Around 1873, Jake and his family are listed in Myra, Texas, where he had became a cattle rancher, (Myra, Texas was largely populated by ex-Confederate soldiers) it was here the Biffles finally settled to live the remainder of their lives.
The history of Colonel Jacob Biffle comes to a sudden close in the winter of 1876-77. On December 15, 1876, while out on a cattle drive, Jake Biffle was shot by a man named Waters, his cook. He died two weeks later and on January 5, 1877, Colonel Jake was buried at the Reed Cemetery in Myra, Texas.