THE COL. JACOB B. BIFFLE CAMP: The Col. Jacob B. Biffle Camp, No. 1603 was formed in 1996 in Waynesboro, Tennessee. We chose the name of our Camp from Wayne County native Jake Biffle, the Commanding Officer of the 19th Tennessee Cavalry. Since then, we have worked hard to promote the history and heritage of all Confederate soldiers in a county that was primarily filled with Union sentiment during the War. Although we are a small Camp, we are very active in the community, taking part in memorial services, reenactments, heritage festivals and educational programs such as the donation of WBTS related books to the Wayne County Public Library. Our Camp meets on the 3rd Thursday of every month at 7:00pm in the meeting room of the Waynesboro Cumberland Presbyterian Church, a building which was standing proud during the Union occupation of Waynesboro, making it a fitting place to hold our meetings. The church is located just off the square on Hwy 13 North. Our meetings are open to the general public and we invite anyone with an interest in the WBTS to come out and visit.

If you are a descendant of a Confederate Veteran and are interested in becoming a part of our organization, come by a meeting and pick up an application or, call 1-800-MYSOUTH for more information. We look forward to seeing you!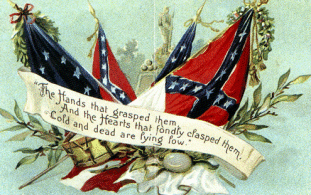 THE SONS OF CONFEDERATE VETERANS: The Sons of Confederate Veterans was founded in 1896 at Richmond , Virginia as the direct heir to the United Confederate Veterans, making the S.C.V. the oldest hereditary organization for male descendants of Confederate soldiers. Since it's founding, the S.C.V. has functioned as a historical, patriotic, and non-political organization dedicated to insuring that the true history of the 1861 - 1965 period is preserved.

Membership in the S.C.V. is open to all male descendants of any veteran who served honorably in the Confederate armed forces. Membership can be obtained through either direct or collateral family lines and kinship to a veteran must be documented genealogically. The minimum age for membership is 12. The S.C.V. has a network of genealogists available to assist you in tracing your Confederate ancestors service.

The S.C.V. has several ongoing programs at the national, state and local level to benefit the community such as: Preservation work, Scholarly publications, Scholarship programs, Medical research grants and historical reenactments.

At the heart of the S.C.V. is our International Headquarters in Columbia, Tennessee. This historic antebellum mansion serves as the base of operations for our organization and provides meeting and conference space for several groups within the community. The mansion contains a museum and gift shop which are open for the general public as well as members of the organization. The mansion is available for weddings and special functions also. For more information on touring Elm Springs, click here...
The Col. Jacob Biffle Camp Home Page