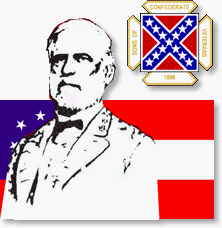 Welcome
---
Duty. Honor. Integrity. Chivalry
---
The
ROBERT E. LEE CAMP, SONS OF CONFEDERATE VETERANS,
is a historic preservation organization serving the Germantown/Memphis, Tennessee area. We learn and teach the true history of the Confederate States of America and of the men and women who sacrificed their all fighting for their freedom and independence — their constitutional right as citizens of sovereign states.
The Confederate soldier won the admiration of the world by his courageous fight against an enemy that was bent on coercing them back into the union and was overwhelming in numbers, equipment and implements of war. With few exceptions they were volunteers who were simply defending their homeland from the invading army of a foreign power from which they had legally and constitutionally seceded. Although defeated, they left us traditions of faith in God, duty, honor, chivalry, and respect for womanhood; they left us a passionate belief in freedom for the individual.
On the home front, civilians and Civil Servants - men, women, and children — were put through incredible hardships, their property stolen, homes burned, and many were killed in the defense thereof or in many cases for no reason at all.
We take justifiable pride in our Confederate forebears, men and women, who fought and died for the cause in which they believed — a system of government as it was meant to be by the Constitution. We share a common birthright as Southerners and descendants of those who served the Confederate States of America.
Today, the
SONS OF CONFEDERATE VETERANS
is preserving the true history and legacy of these heroes, so future generations can understand the motives that activated the Southern Cause.
Charge to the Sons of Confederate Veterans
"To you, Sons of Confederate Veterans, we will commit the vindication of the cause for which we fought. To your strength will be given the defense of the Confederate soldier's good name, the guardianship of his history, the emulation of his virtues, the perpetuation of those principles which he loved and which you love also, and those ideals which made him glorious and which you also cherish."

Lt. Gen. Stephen Dill Lee, Commander General, United Confederate Veterans, Apr. 15, 1906
---

A Note From Your Webmaster
First of all, I would like to thank each of you for giving me the opportunity to work on the website for the Robert E. Lee. I've really enjoyed doing this. A lot has changed since I first started working on the website in January of 2008, both in the design of the site, and also in the underlying structure of the Internet itself.

And now, with the launch of this new design, I hope the site continues to be a fresh, inviting and useful place for us to meet on the web!

Sincerely,