Membership in the Sons of Confederate Veterans is open to all male descendants of any veteran who served honorably in theConfederate armed forces. Membership can be obtained through either direct or collateral family lines and kinship to a veteran must be documented genealogically. The minimum age for membership is 12.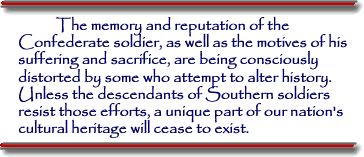 Proof of kinship to a Confederate soldier can take many forms. The easiest method is to contact the archives of the state from which the soldier fought and obtain a copy of the veteran's military service record. All Southern state's archives have microfilm records of the soldiers who fought from that state, and a copy of the information can be obtained for a nominal fee. In addition, the former Confederate states awarded pensions to veterans and their widows. All of these records contain a wealth of information that can be used to document military service.
The Sons of Confederate Veterans has a network of genealogists to assist you in tracing you ancestor's Confederate service. For assistance information, please visit Sons of Confederate Veterans Genealogy Network


.

The citizen-soldiers who fought for the Confederacy personified the best qualities of America. The preservation of liberty and freedom was the motivating factor in the South's decision to fight the second American revolution. The tenacity with which Confederate soldiers fought underscored their belief in the rights guaranteed by the Constitution. These attributes are the underpinning of our democratic society and represent the foundation on which the nation was built.
Today, the Sons of Confederate Veterans is preserving the history and legacy of these heros, so future generations can understand the motives that animated the Southern Cause.
If you are interested in perpetuating the ideals that motivated your Confederate ancestor, the Sons of Confederate Veterans needs you.
For the Sons of Confederate Veterans application, please visit


.
---
The Shelby Grays Camp 1852 contact:
Jerry Cumberland
5075 Mabry Lane
Arlington, TN 38002
H (901) 867-9328