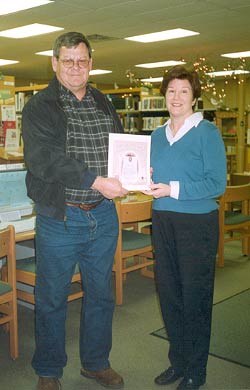 The Fairview Observer - Jan 6, 2004
Confederate burial book donated to library.
A copy of the new book, CONFEDERATE BURIALS IN DICKSON COUNTY, was recently donated to the Fairview Public Library by members of Captain E.D. Baxter Camp 2034 Sons of Confederate Veterans of Fairview.
The book was produced by Captain W.H. McCauley Camp 260 SCV of Dickson along with Old Hickory Chapter 747, United Daughters of the Confederacy of Dickson.
The book lists burial sites of Confederate soldiers buried in Dickson and surrounding counties as well as soldiers with Dickson County connections who are buried elsewhere, including battlefields and Union Prisons. Cemeteries in the Fairview area are listed in the book.
According to Camp 2034 commander, Dennis Lampley, the books will make excellent inexpensive Christmas presents for area history buffs.
The books are now available by mail for $10 (includes postage & handling) orders may be sent to: Lt. Comm. Steve Tucker 206 E. Broad St. Dickson, TN 37055. Make checks payable to SCV Camp 260. For more information, call 299-0916.


You can purchase a copy of "Confederate Graves of Dickson Co. TN Soldiers" by visiting the SCV Camp 260 web site. Click here to purchase your copy today!