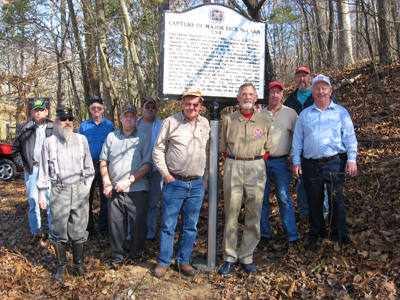 Pictured with the marker members of Captain Ed Baxter Camp 2034 Fairview & Colonel Jack Moore Camp 559 Centerville.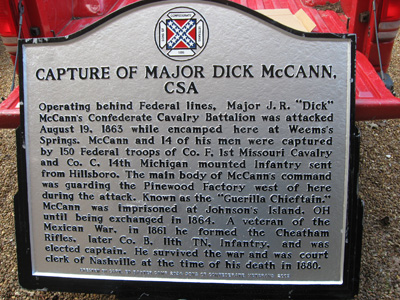 Capture of Major Dick McCann, CSA
Operating behind Federal lines, Major J.R. "Dick" McCann's Confederate Calvary Battalion was attacked August 19, 1863 while encamped here at Weems's Springs. McCann and 14 of his men were captured by 150 Federal troops of Co. F. 1st Missouri Cavalry and Co. C. 14th Michigan mounted infantry sent from Hillsboro. The main body of McCann's command was guarding the Pinewood Factory west of here during the attack. Know as the "Guerilla Chieftain" McCann was imprisoned at Johnson's Island, OH until being exchanged in 1864. A veteran of the Mexican War, in 1861 he formed the Cheatham Rifles, later Co. B. 11th TN Infantry, and was elected captain. He survived the war and was court clerk of Nashville at the time of his death in 1880.
Major Philip Van Horn Weems, CSA
Born Nov. 65, 1837, Philip Van Horn Weems owned this property know as Weems's Springs prior to the Civil War. In May 1861, he enlisted in the Hickman Guards, later Co. H. 11th Regt. TN. Volunteer Infantry, CSA. He was elected captain of the company and later major of the regiment. Seriously wounded at the Battle of Missionary Ridge, he recovered but was mortally wounded during the Battle of Atlanta, July 22, 1864 and died 2 days later. Originally buried in the Griffin, Ga. Confederate Cemetery, in 1885 his remains were reinterred in the family cemetery here. After the war this property was developed as Bon Aqua Springs Resort. The 11th TN. Infantry Regt. help it's veterans reunion here at the Bon Aqua Springs Hotel on Sept. 24, 1885.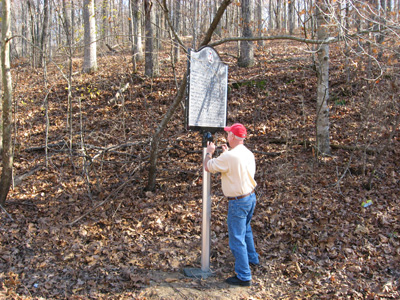 Billy Adcock makes the final adjustments.