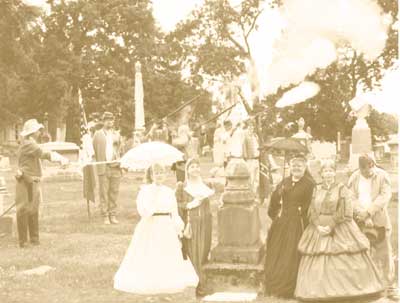 Camp 2034 Honors It's Namesake with a Memorial
On May 22, 2004, the members of E.D. Baxter Camp 2034 honored its namesake by placing a Confederate Veterans Memorial Stone at his gravesite. Captain Baxter is buried in Mt. Olivet Cemetery on Lebanon Road in Nashville. His grave is located near Confederate Circle, directly in front of General (Governor) William Bate. Camp 2034 Commander Dennis Lampley gave a brief history of Captain Baxter including his Civilian and War time accomplishments. Camp Chaplain, Rev. Thomas Sullivan, delivered an inspiring blessing on the proceedings.
7 SCV camps and 5 UDC Chapters were represented at the memorial. Thanks to Bro. Lee Lankford for supplying gear & instruction for some of our re-enactors, Mike Bond, Todd Carter Camp 854 Franklin, Bryan Sharp, Capt W. H. McCauley 260 Dickson, Joe Bailey, 260, Lee Lankford 2034, Ricky Luther 2034 & Jeff Hughes 2034. Deanna Bryant, who is running for State Division President was present representing her Chapter, Columbia Chapter was represented by Renee Bowser, who wore a Beautiful Mourning Dress complete with veil, and brought Roses from her garden to place on the Headstone. The Franklin Chapter and a Nashville Chapter were represented as well. Ann Schlemm, Terri Luther and Irenne Lampley represented UDC, Chapter 747, all were dressed in Period dress. New TN Div. Commander Ed Butler ,Dillard-Judd 1828 Cookeville, Past Commander Skip Earl, Sam Davis 1293 Brentwood, Bishop Harvey Moore of Col. Jack Moore 559 Centerville, attended as well.
For more information on Captain E.D. Baxter, please visit http://baxtersbattery.5u.com.
Click here to view an image of an article that appeared in the
The Dickson Herald, Dickson, TN - Wednesday, June 2, 2004 - Page A7
This image is large and may take seveal seconds to download

Click the small images on the left to see the full size photographs.