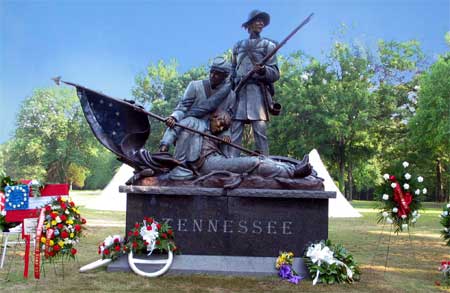 Camp 2034 Attends the CSA Tennessee Monument Dedication at Shiloh Military Park
Several members of Camp 2034 were among nearly 2,000 who came on this Confederate Memorial Day for the unveiling of Tennessee's first official memorial to the more than 14,000 men who fought, and nearly 3,200 who died, on both sides of the line in one of the bloodiest battles in U.S. history. The statue, sculpted by Texas artist Gerald L. Sanders, is called ''Passing of Honor'' and depicts a grizzled sergeant gently taking a Confederate flag from the hands of one dying soldier, while another stands guard over the pair.
Click the links below to view photo galleries of the events around this great monument.
(Each gallery will open in a new browser window)
Memorial Services at the Confederate Burial Trench and Memorial to the Unknown Soldier
Tennessee Monument Dedication Services
Flash Photoshow with Select Photos of the Days Ceremonies.
It may take several moments for the Photoshow to load, please be patient.
Click here to view an image of an article that appeared in the
The Jackson Sun, Jackson, TN - Saturday, June 4, 2005