Pomp Kersey, Tennessee Guerilla



The following text is from "A Bicentennial History of DeKalb County, Tennessee" by Thomas Gray Webb, and is copyrighted by the author. Our thanks go to him for allowing its use on this page.

In neighboring White County the next month, a force of a hundred Union soldiers was sent to recover 500 horses that had been stolen from them by Champ Ferguson's guerilla band. The official army report stated that they found very few of the horses, but that "the major commanding found that the citizens were all aiders and abettors to the thieving band. So he commenced to show them the rewards given to such people and had their stock (private) and everything that his command could consume seized, and plundered every house from there to Sparta... and destroyed all that could not be brought away. For a distance of fifteen miles ... the most unparalleled plunder was committed." The same report mentioned that there were still Confederate guerilla bands at Sparta, Spencer, and in Overton County, and that "Kearsy has about thirty men and ranges near Smithville... they are all regular desperadoes, taking no prisoners at all."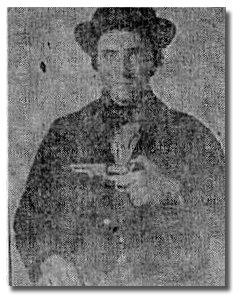 This referred, of course, to Pomp Kersey (pictured at left), the best-known of the Confederate guerillas in DeKalb County. He actually lived just across the line in Cannon County near Short Mountain but most of his guerilla operations were directed against Union sympathizers around Liberty and Smithville in DeKalb County.

Pomp Kersey's real name was Hiram Taylor Kersey, but apparently he was always called by the nickname Pomp. He was the youngest son of Margaret (Peggy) Kersey, who had been a widow for most of Pomp's life. Pomp Kersey enlisted in Company A of Colonel Savage's 16th Tennessee Infantry Regiment in May 1861, when he was only thirteen years old. His older brother and two cousins were in the same company, and they all served honorably there through the terrible battles of Perryville and of Murfreesboro, where one of his cousins was killed. The other died at Franklin in November 1864.

Pomp Kersey was not with the 16th Regiment at Franklin; he had left the army more than a year earlier. On May 24, 1863, he wrote to his mother from Shelbyville. He was fifteen years old at the time, but his letter did not sound like one written by a fifteen-year-old boy, nor did it sound like one written by a desperado. He wrote:

"Dear mother, when I know that you are well and doing well I am satisfied for I care for nobody else but you, all my labor and privations and hardships are to make you comfortable in your old age. I am looking forward to the time when I shall see you enjoy all the necessary comforts and pleasures of this earth and I am in hopes I will in a coming day be with you and be able to still assist and aid you in your troubles and cheer you in your old age.... I understand that you have bought you a farm, and I am glad you have done so for I had no other use for my money and should it so happen that I never get to come home you will have a home w here you can live urmolested. Mother I want you to write to me as soon as you receive this letter, and let me know how every thing is going on. I have no news to write you, we have bad news from Missippi. I will send you $15 in this letter and if you need any more just let me know it and I will send you more, be sure and write to me some more I remain your Son for ever.

H T Kersy to his mother Margrett Kersy"

Writing to his friend M. B. Martin, also on May 24, 1863, Pomp Kersey sounded more like a typical fifteen year old, but still nothing like a man bent on spreading death and destruction. Addressing him as "Dear old Friend Rich," he wrote:

"I am well and enjoying all the pleasures of this life. I have plenty of money to spend for anything I want. I have for the last month had the finest time with the young ladies you ever saw. I visit a place where they had the finest kind of instrumental music preformed by a natural actress. She acted well on the piano and I think she will act well almost any other way. rich I have a great many good things to tell you but I have not got time to tell them all now but I want you to save a 2 gallon jug full of good whiskey and rob the bees for I intend to come home in a few days. I will be at home by the time these letters gets home and I want you to attend and have all things so we can take a big spree out in the flat woods. rich I am in the notion to take one big bust before long I will be sure to be at home so I will come to a close. I remain yours most truly for ever H.T.Kersy"

Pomp Kersey gives no indication in these letters that he was planning to leave the army. However, when he did come home, he found that the Short Mountain section was being subjected to repeated raids by a band of Union guerillas. They had plundered the home of his mother and had killed Bob Jones, one of her neighbors. When the Confederate army withdrew from Middle Tennessee to Chattanooga, Pomp felt that his home would be unprotected against these Union men. Vicksburg had fallen, Lee had retreated from Gettysburg, and the future looked dark for the Confederacy. Therefore, on August 4, 1863, he left the army and returned home as did quite a few other Middle Tennesseans at this same period of time. He gathered about him a dozen or so others who felt as he did, and they set about protecting their area from the outrageous actions of the Union guerillas.

Unfortunately however, some of the actions of Pomp Kersey's guerillas became as outrageous as those of the Union guerillas. Pomp Kersey and his band appear to have operated mainly in DeKalb County, with Smithville and Liberty receiving most of their attention. They were particularly disliked at Liberty, where they robbed several of the Union sympathizers, among them William Vick and James Fuston. Their raids into Liberty culminated on the night of January 25, 1864, when they surrounded the home of Ben Blades, who was 66 years old and a Union man, but was well thought of by the entire community. When he tried to escape out a back door, he was killed almost instantly by a shot through the door. Mr. Blades' death succeeded in arousing most of the people of the Liberty area against Kersey's band.

They were better liked around Smithville, where the majority were of Confederate leanings. One day "there gathered in the northern part of the town a squad of men belonging to Company F, Blackbum's Regiment, to secure Federal recruits -- Ras Foster, 'Black Bill' Foster, Jim Eastham, Pal Rigsby, John Colwell, and others. Suddenly Kersey's men dashed into town, stampeding the recruiters. Eastham killed a horse trying to get away, while eight of the Federals were killed, among them Rigsby and Colwell.... The Rebel citizens of Smithville were pleased over this raid, for they had much to bear."

Some of Smithville's citizens were not so pleased with Kersey's raids. William G. Foster lived on the square where the jail now stands, in a log house with a room on either side and an open hall in the middle. One night Kersey and fifteen or twenty men came shooting into town and rode their horses right into the open hall, woke the family, and choked Mr. Foster and his wife until they gave him what money they had. They then rode away, but were not yet through with Mr. Foster. They returned another night when Mr. Nathan Newby was visiting the Fosters, shot and killed Mr. Newby's horse, and shot the Fosters'cow, though it lived. Again they choked William Foster until he gave them money, and Nathan Newby barely escaped with his life when he had no money. Such events as these were described as a "regular occurence" in Smithville in 1863 and 1864.

William Foster seemed to get the worst end of the war from both sides; he had voted to remain in the Union and was considered Union by Kersey's men. However, he had two sons in the Confederate army in the early part of the war, so the Union soldiers did not hesitate to take his supplies. One fall when his corn crop had been brought into town and piled in his yard before storing, Bill Hathaway and about a hundred Federal soldiers rode up and turned their horses into it, consuming nearly all of it. The Fosters finally moved to Watertown during the last year of the war to escape the guerillas.

Kersey's men when they needed money did not seem to be too particular about whether their victims were of Union or Confederate sympathies. Hearing that John M. Love on the Caney Fork at Young Bend had some money, they rode to his house and demanded it, even though he was of Confederate sympathy and had two sons in the Confederate army. When he refused to hand over the money, they took his wife, Nancy, to the back of the house, put a rope around her neck and threw it over a tree limb, and threatened to hang her until she finally told where the money was hidden.

For better or worse, the raids of Pomp Kersey and his men were to come to an end less than a year after they had begun. In many ways the members of the band could hardly be called men; Ike Gleason of White County was only fifteen years old, Pomp Kersey himself was only sixteen, and several of the others were said to be about the same ages. However, the war had demanded men's work of them, and most of them would attain no greater age, for they were soon to die.

On the night of July 23, 1864, there was a party near Gassaway at the home of a Mr. Dennis on Canal Creek. Several Union men were there; among them were Dr. Shields of Smithville, Henry Blackburn, Bill Hathaway, a Mr. Parrish, Thomas G. Bratten, Louis Lyles, Daniel Gan, and Jim Clarke. Some of these were soldiers; some were not. Jim Clarke, a young boy, had on a Federal uniform, but was not a soldier. Daniel Gan had deserted Stokes' Cavalry the previous year, but had returned to duty and was now listed as "Absent sick" at Liberty, Tennessee. Henry Blackburn and Louis Lyles were absent without leave from Stokes' Cavalry; Bill Hathaway had already resigned from that unit and had not yet joined the Fourth Mounted Infantry. Thomas G. Bratten, however, was on active duty with Stokes' Cavalry. He was sixteen years old at the time, a month older than Pomp Kersey; it was Bratten and Hathaway who fired the fatal shots that ended Kersey's life the next day.

Bratten gave this description of the party: "We had several interesting rustic beauties there, all were having a fine time. Not many of us got sleepy, but three went to the barn and in the loft and were soon dreaming; and Hathaway went to the side room and went to sleep. We did not have much fear of an attack, as we never dreamed that an enemy was near. John Overall was fiddling for us. About 10 o'clock (we afterwards learned), Pomp Kersey, the captain of the Short Mountain bushwhackers, came into the yard to see how strong we were; but Louis Lyles and Jim Clarke coming up the creek just then, shouting and shooting, as wild boys will do, doubtless scared him away for the time.

At another time, when one of the soldiers stepped out and fired his pistol, he thought he saw a man out in the corn, but paid no particular attention to him. Just before day I sat down on the stair steps with my Spencer rifle leaning against the wall. The fiddler was playing 'Eighth of January' and the strains rang musically through the room. I had not been there long before I heard several rifle shots. Every man in the house looked up suddenly, turning white with fear. For a moment all was still. The clock ticked loudly. The snoring of a sleeping man in an adjoining room could be plainly distinguished. One of the soldiers' horses, tied out in the yard, nickered lonesomely. Then all of a sudden, the three persons who had been in the barn came bursting through the house as if Satan was after them!

Some of the girls hurried and tried to wake Hathaway, but he was hard to arouse. After giving him a shake, I rushed to my horse, put spurs to him and started towards Liberty. Some other soldiers were out in the road and got their horses as I got mine. As we turned into the branch that led to the road, behold! Pomp Kersey's gang, or a part of it, was standing right between us and town. But spurring our steeds, we pressed through them, and here we went, helter-skelter. We checked at the forks of the creek, about where the mill is at Gassaway. We noticed that all of our men were there but Hathaway and Clarke. I noticed also that my coat, which was a blouse, had seven holes in the tail. Presently we heard horse hoofs beating over stones and Hathaway soon hove in sight. His hat was lost, and his hair was flying in the wind as he said, 'Boys, I feel like I was just out of the mouth of hell!' He said that Clarke was behind a tree keeping the gang of 12 at bay. We thought of going to his relief, but knew it meant destruction. Clarke was killed fighting to the last. John Overall, the fiddler, who was very young, had his fiddle broken over the rail fence and told to keep out of such bad company."

The Federals went on to Liberty and got reinforcements, among them E.D. (Ras) Foster, who had earlier been run out of Smithville by Kersey, and whose father had been raided by Kersey's men several times. The Federals then headed toward Short Mountain, where Pomp and his band had gone.

Pomp's band had stopped at Bob Jones' oat field and taken up oats in loose bundles for their horses; the Federals tracked them from there by the scattered oats dropped on the way. They found them asleep in a thicket; one man, Seals, had heard them coming and, after trying unsuccessfully to waken the others, he made his escape. Ike Gleason and E.J. Hawkins, who were sleeping some distance away, also made their escape when the shooting began. Of the remaining seven, five were killed instantly on the first volley fired by the Federals. Another was killed by Hathaway and Dan Gan, leaving only Pomp Kersey. He tried to get on his horse, but failed to get the halter untied. Thomas Bratten put his rifle against Kersey's back and pulled the trigger, but it failed to fire. Kersey jumped into the bushes, turned back toward Bratten and got his pistol half-way out, but was shot simultaneously by Bratten and Hathaway. Jack Neeley, two men named Benton and Kelly, and two Arnold brothers from Murfreesboro were among those killed. The Federals did not escape completely unscathed; when Dan Gan was discharged a year later "on account of wounds received in action," he still had in his thigh a rifle ball received "in action on Short Mountain Tennessee with the notorious Pomp Kersey and his guerilla band."

After the shooting, the Federals went to the Bob Jones place (Jones had earlier been killed by Union bushwhackers) and commandeered his wife's oxen and cart. Stripping all clothing from the seven bodies, they piled them into the ox cart and started through Mechanicsville.

Miss Mary Reams wrote from there many years later, "I have heard those that saw it say it was a gruesome sight, the hot July morning sun on those dead bodies, their legs and arms hanging nearly to the ground. Saddest of all, the mothers and sisters of the boys following the cart, begging the bodies of their loved ones. Heedless, the cart went on. It reached Liberty about sunset; the bodies were thrown into a vacant storeroom and buried the next day on the Daniel Smith farm north of the bridge."

There were many who were pleased that Pomp Kersey and his band would raid no more, and there was even a song which became quite popular in parts of DeKalb County. It went:

We had a little party on the banks of Canal,
Along came Pomp Kersey and whipped us like hell!
We routed, we scouted All half the next day
And found the bushwhackers by scatters of hay!
Huzza! Huzza! We're a nation so true,
Three cheers for Abe Lincoln, the red, white, and blue!


The bodies of Kersey and his men were removed from their first burial place by relatives, and Pomp's body was buried in the Melton Cemetery near Short Mountain. The inscription on his tombstone expresses his family's viewpoint quite well:



He Died for his Country
H. T. KEIRSEY
Bom Nov. 13, 1847, Joined the Confederate Army May 1861
Associated himself with a Tenn. Guerilla band Aug. 1863
and was murdered near Short Mountain July 24, 1864