Diary of Lt. Spencer B. Talley

Spencer B. Talley was born in Wilson County, Tennessee, on May 22, 1841. In 1918, when he was approaching his 77th birthday, a granddaughter presented Talley with a bound volume of blank leaves, and requested that he record for her the history of his family, and of his experiences as a Confederate Soldier. The result was a wonderful retelling of his life story, centering on his war experience.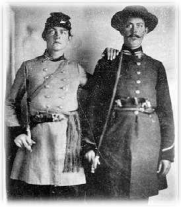 Talley's "Diary" is a treasure for those of us who are interested in the life of the common soldier of the Confederacy during the War for Southern Independence. Instances of high drama, humor, and pathos abound, as do stories of hair's-breadth escapes and the trials of life in occupied Tennessee.

For the convenience of the reader, the Talley Diary has been divided into six chrononlogical segments as described below...

If desired, you may download the whole document (88K) in text form by clicking here.

The Spencer Talley Diary was transcribed from the original by Mr. Donald Harris of Lebanon, Tennessee, and was generously made available by him for use in these pages. Mr. Harris, who is distantly related to the Talley Family, also provided the photograph reproduced here. Excerpts from the diary have been previously published in the book Call Forth the Mighty Men by Bob Womack. Except for a brief addendum relating to the genealogy of Talley's wife, the diary is reproduced here in its entirety.

About the Photograph Above: Two officers of the 28th Tennessee Infantry pose in dress uniform. Capt. John B. Holman is at the left, and Lt. Spencer B. Talley is on the right. Capt. Holman was killed in action at the Battle of Franklin, 30 November, 1864.

Read Part 1